Lending a Helping Hand - Disputanta, VA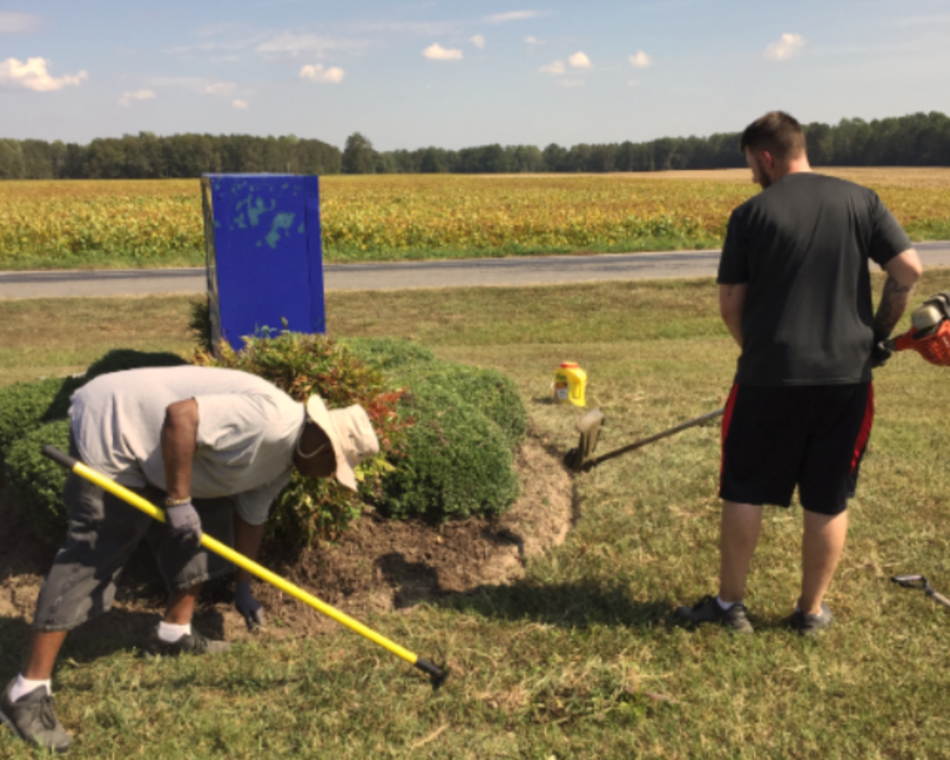 SMP has done it again! The Activities Committee (AC) has donated time and effort to help another neighboring school. Josh Wargofcak, Manager of Packaging and Receiving worked with Principal Scruggs, from David A. Harrison Elementary on coordinating the event. Josh was responsible for finding out how many volunteers were needed, and choosing the best time to help the school without interfering with the needs of the distribution center operations. He also was in charge of finding out what tools and materials were needed.
The project entailed helping with landscaping the courtyard and the front of the school. SMP's AC sent six volunteers: Sheena Baines, Greg Tyree, Brett Brown, Jessica Barksdale, Jessie Pruit and of course, Josh. The team met at the school with rakes, mulch, and plenty of excitement. They pulled weeds, laid down 54 bags of mulch, planted six new types of flowers, and displayed some of the students' artwork in the courtyard.
When Josh was asked to describe what this experience meant to him, he stated, "It was very satisfying to help in the local area, especially the school, as they are always seeking ways to improve." He also said that the students and teachers were very thankful for the hard work the volunteers put into making this happen. Can you believe although some of the volunteers had never used a rake or laid down mulch before, but they were still excited to lend a helping hand? We sure have some great people at SMP!
Josh showed the volunteers some of his tricks for planting flowers and helped them understand about water run offs. Everyone felt that this was a very rewarding project. The AC looks forward to participating in more events in the future. You can find a thank you message from the school on their Facebook page (David A. Harrison Elementary). Everyone from the AC would like to say "Thank you SMP" for allowing us to be a part in giving back!