Labette Health Foundation Receives $25,000 from SMP Cares | Independence, KS
PARSONS, KANSAS – Labette Health Foundation is honored to accept a donation from Standard Motor Products, Inc., through their SMP Cares initiative, in the amount of $25,000.  The donation was given in support of Labette Health's Independence Healthcare Center.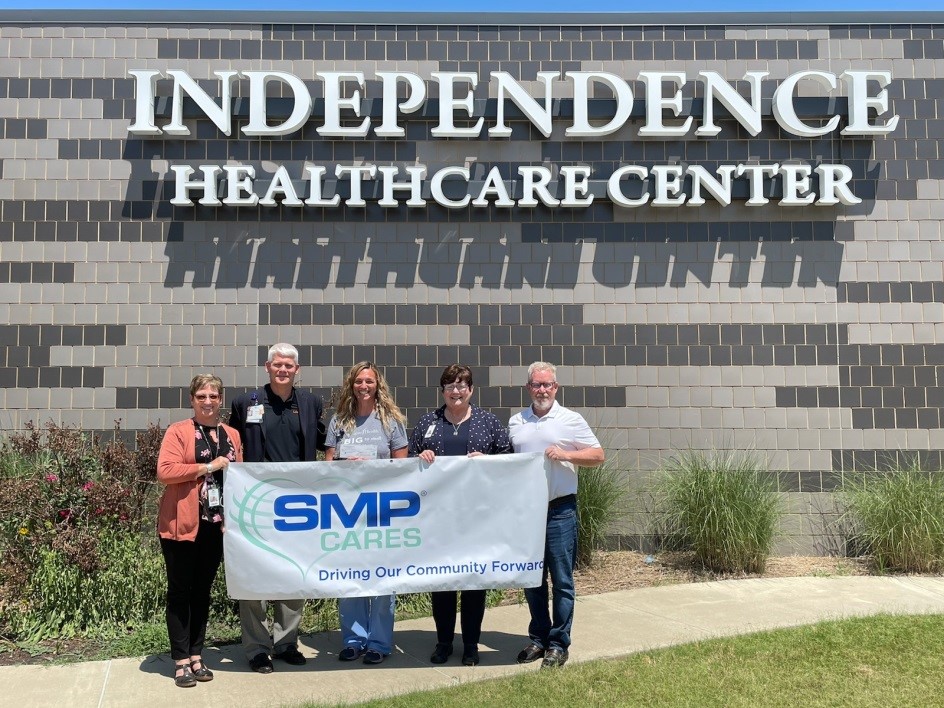 Pictured in the photo left to right are: Laurie Rutland, Finance Manager – SMP-I, Brian Williams, President and CEO of Labette Health, Becky Mitchell, Director, Labette Health Independence, Jackie Pittman, Plant Manager – SMP-I, Tom Lattimer - Senior Vice President, North American Operations, SMP
The SMP Cares initiative enables employees to give back to communities through service, philanthropy and volunteer efforts – as a means to recognize and give back to those who help contribute to their company's success.
"For over 100 years, SMP has strived to be a good corporate citizen to our employees, customers, business partners and the communities within which we operate.  SMP believes being a good corporate citizen means supporting the people and communities that have made our success possible.  Through the "SMP Cares—Driving Our Community Forward" program we were able to contribute to our local healthcare expansion.  We are fortunate to have this medical facility in Independence, which services many of our employees, and we look forward to their future success." said Jackie Pittman, Plant Manager of Standard Motor Products.
Labette Health Independence Healthcare Center opened on July 4, 2017.  The hospital provides emergency room services, laboratory, imaging, outpatient treatment center, cancer center, as well as a rural health clinic providing primary & express care services, general surgery, urology, dermatology, internal medicine and pediatric care. 
In January 2021, Labette Health Foundation launched its "Take Me to Labette Health" campaign to expand services at the Independence Healthcare Center.  The project summary includes:
"We are planning a 10,000 square foot addition to Independence Healthcare Center that would allow additional specialists to provide services in Independence, expanded Primary Care Services, and diagnostic imaging as well." said Brian Williams, President and CEO of Labette Health.
For more information regarding the "Take Me to Labette Health" campaign, contact Anthony Vaughan at 620-820-5243 or avaughan@labettehealth.com.